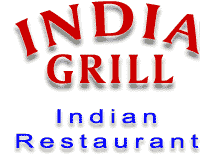 Authentic Indian Cuisine Restaurant
Indian Restaurant Website
Thank you very much for your kind and valuable continued trust and support in India Grill.
Please let your friends know about our new location. We are now serving at this exciting new location for Dinner and Lunch buffet.
India Grill is an Authentic Indian Cuisine Restaurant. If you are into healthy eating, our delicacies are known for their Healthy Choices and Great Taste. Our buffet lunch and fine sit-down dinner menu items include Low Fat and Low Carb choices for health conscious people.
We have been serving exquisite Indian food in the St. Pete, Clearwater, and Tampa area Since 2005. Our quality and customer service are exceptional which have enabled us to gain the reputation of being one of the Finest Indian Cuisine Restaurants in the area.
An Indian lunch buffet is available every day and we cater to small and large private parties, weddings and corporate functions.
New Address: To Be Determined
E-mail: indiagrill409@gmail.com
Hours of Operation: Closed